In a world where you can be anything, we choose to stick to the values that helped us establish Bloomer Trailers, more than 20 years ago. Although things are changing, we are still as hungry as ever to stay motivated to develop new ideas that make your life easier and your horses haul, safer. Determination might be our motivation, but reliability and trust are still at the core of our business. One thing that we have always aspired to be is trustworthy; people trust that we are putting in the time and effort to develop a product that speaks for itself when it comes to the components we use and the thought that is put forth when we send your Bloomer Trailer out on the road. For years, we have spoken about the components we use and the products we build, but did you know that beneath the surface is a story that truly defines the American success story?
At 34 years old, Randy Bloomer was a trailer dealer who was quickly standing out for his passion for the industry and his compassion toward customers' needs. However, he knew that something was missing in the industry. As someone who was familiar with the products, but also using them, he challenged the brand that he was working for to develop a safer trailer and utilize products that would help revolutionize the industry. When he eagerly presented this idea to the owners of the company, they shot him down. They believed that what they were doing was working, so why change it? If you know anything about Randy Bloomer, you know that good is not good enough. From a payphone, he called his wife Kim, and told her that he was going to start his own brand of horse trailers and if they built one, it would be the best trailer on the road. You see Bloomer Trailers today, but many do not know that the original trailer was designed on a Denny's napkin, drawn by Bloomer himself and that was the beginning. Randy and Kim sold their belongings and jumped headfirst into creating Bloomer Trailers. They started with humble beginnings, in the middle of chemical alley in LaMarque, Texas. From the beginning, they have always focused on hiring the best people to build Bloomer Trailers, many of whom are still with us today. For years, they hustled and worked long hours, with minimal sleep, but they thought it was worth it to ensure that everything that is important to you is as safe as possible. Only two years after starting, they hit their stride and had introduced many new components the horse trailer industry had never seen.
Image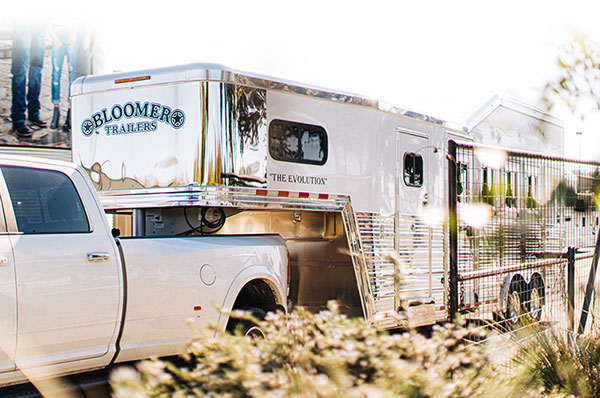 In 2003, a decision was made to build a state-of-the-art facility in Salado, Texas. Directly in the middle of Texas, Salado was the perfect location in regard to convenience for dealers, customers and vendors. Stepping away from the old building in chemical alley, they designed a building fitting for Texas, a large Alamo inspired building graced the side of I-35 and that would be the home of Bloomer Trailers. For many, the irony of the symbolic Alamo appearance serves as a reminder that within these walls, we will continue to fight for what is important, which has always been our customers. When the building was completed, Bloomer Trailers moved over forty employees and their families to Central Texas to continue the craftsmanship that was expected and desired by the Bloomer Trailers customers.
Our employees and dealers have always been what makes us stand apart, but the way that Randy Bloomer leads is what lights a fire under us to strive for excellence. When we named our newest model, The Evolution, it was to remind ourselves that we have yet to build the perfect trailer, so we have to continuously search for new ideas to improve our trailers. Although we strive to build the best trailer, we also have always worked toward making the industry better.
We are proud to say that no other custom horse trailer company has done more for youth rodeo athletes than Bloomer Trailers. In 2009, we became the Official Trailer of Texas High School Rodeo and vowed to build a trailer to raffle off every year, with the proceeds going directly to THSRA athletes. To this date, THSRA athletes have raised over $2,000,000 by raffling off a Bloomer Trailer.
Our support for youth did not stop there, in 2008, we started the Bloomer Youth Team, and since then, hundreds of youth rodeo athletes have undergone interview training, acquired sponsorships and had the support to compete at IFYR each year. The support Bloomer Trailers shows these athletes far exceeds their youth careers into adulthood, in and out of the arena.
At Bloomer Trailers, we are family, so when you work here or become a team member, you feel like you are a part of something much bigger than a trailer company. We started as a family company and today, we are proud to say that our family is heavily involved.
"There is no such thing as a self-made man, there are so many people who have contributed to our success. I would not be here today without the help and support of so many people along the way," says Randy Bloomer, Bloomer Trailers CEO.
We never imagined that our dream would lead to being used by numerous World Champions, Award-winning musicians, actors, athletes and would even be used on a hit television series like Yellowstone. We dreamed of being the official trailer of the pillar organizations of our industry and now we are proud to be the Official Trailer of the PRCA, NFR, NHSRA, THSRA, NRCHA, BFI, The American, and the iconic Pendleton Round-Up. We know that half of businesses fail after the first five years, and we are humble enough to know that our success is a testament to the support of our incredible dealers, employees and loyal customers. When you purchase a Bloomer Trailer, you are purchasing a dream that started as a quest to build one perfect trailer. Although that was over 6,000 trailers ago, we are still working hard to build the best trailer on the road.