August 31, 2015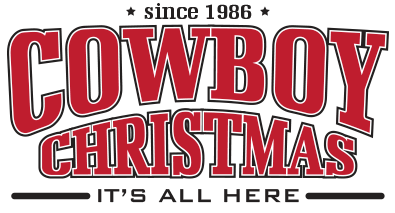 COWBOY CHRISTMAS TO PROVIDE UNMATCHED SHOPPING EXPERIENCE AND NON-STOP ENTERTAINMENT AND INTERACTIVE ELEMENTS FOR RODEO FANS
Popular show to incorporate live music, interactive elements, rodeo arena and much more!
The popular Cowboy Christmas will return to Las Vegas in 2015 with expanded space and product offerings. The show, which runs concurrently with the Wrangler National Finals Rodeo, is set for Dec. 3 – 12, 2015 inside the South Halls at the Las Vegas Convention Center and includes live music and special guests, competitive rodeo arena events, interactive displays and the NFR Social Arena.
Free to the public, Cowboy Christmas will be open 9 a.m. – 4 p.m. daily. To add to the overall experience, RMEF's Hunter & Outdoor Christmas Expo will be co-located in the South Halls with the Cowboy Christmas. The show will expand from four days to a full ten days in 2015, with a goal to become the most successful outdoor and hunting-related expo in the United States.
Launched in 1986 and designated as the only official Gift Show of the Wrangler National Finals Rodeo, Cowboy Christmas features more wares to keep even the most avid shopper entertained all ten days. With just under 450,000 square feet of show floor and approximately 400 exhibitors from across the United States, the show will feature unique products, including custom-made jewelry, western wear, boots and spurs, furniture, original art, handmade crafts and home goods. Attendees will also find the best source for the official Wrangler NFR and PRCA merchandise.
The larger footprint within the South Halls will allow for the incorporation of Cowboy FanFest, the popular fan interactive experience, within the auspices of Cowboy Christmas. In addition to the ultimate shopping experience, Cowboy Christmas will now include the following main anchor displays and programming elements:
Wrangler Rodeo Arena – The arena will seat 1,000 fans and feature Clint Anderson Horsemanship, Mini Bucking Bulls, Miniature Bareback World Championships, Exceptional Rodeo presented by NV Energy, Wild Pony Races and Roy Cooper's 13 & Under Tie Down plus Women's Open Breakaway;
Rodeo Live presented by RODEOHOUSTON® – Daily features include Flint Rasmussen with his popular show, "Outside the Barrel," "Alexis Bloomer Live", RFD-TV's Western Sports Roundup and new for 2015 the "Learnin' The Ropes" youth show;
Rodeo Saloon – Every great party needs a saloon. Located near the West End of Cowboy Christmas, the Saloon features food vendors and video screens with a replay of the prior night's Wrangler NFR performance;
Lucas Oil Rodeo Way – This "Old West" setting features 11 interactive industry and rodeo exhibits located at the Center of Cowboy Christmas;
NFR Social Arena – This area will feature an interactive photo booth, contestant and musician autograph sessions, giveaways and contests;
Great Wall of Rodeo presented by Calgary Stampede – This fan favorite features a graphic of all Wrangler NFR contestants and other interactive elements.
Gold, Silver and Bronze buckle level sponsors include Academy of Country Music, Bloomer Trailers, Browning, B&W Trailer Hitches, Calgary Stampede, Coors, Crown Royal/Diageo, RODEOHOUSTON, Lucas Oil, NV Energy, Priefert, PrimeSport, Purina, Pro Fantasy Rodeo, Ram Rodeo, RFD-TV, Rocky Mountain Elk Foundation, Signature Quarters, Total Equine, Wrangler and Zappos.com.
The Cowboy Christmas brought record crowds to the Las Vegas Convention Center over the ten days in 2014. Total attendance reached 200,179, surpassing the previous record attendance of 196,856 set in 2013.
Sold out for 280 consecutive performances, the Wrangler NFR attracts the top 15 contestants in bareback riding, steer wrestling, team roping, saddle bronc riding, tie-down roping, barrel racing, and bull riding. Under the new contract with the Professional Rodeo Cowboys Association that runs through 2024, the purse in 2015 will jump to $10 million. Qualification is based on the 2015 PRCA World Standings.
For more information on the Wrangler NFR and Cowboy Christmas, please visit www.NFRexperience.com or through social media at /LasVegasNFR and use #WranglerNFR.